Rodríguez Cadarso Residence Hall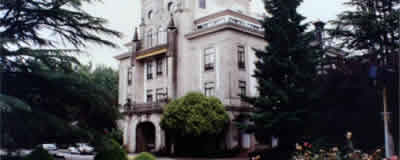 Address
Plaza Rodríguez Cadarso, s/n.
Campus Vida.
15782 Santiago de Compostela
A Coruña (España)
Telephone number: +34 881 814 354
Fax: +34 881 814 309
E-mail: cmrc_dir@usc.es
Description
The Rodríguez Cadarso Hall, located in the Rodríguez Cadarso square, South Campus, is the first building of a project designed by Jenaro de la Fuente.
Built in 1940, this is the oldest residence hall of the Galician University. Originally it housed male students. Then, after being closed for a couple of years due to repairs, it provided housing for postgraduate students in the 1970s. Since the 1973/74 academic year a new era for the hall as residence for women due to the absence of women residences at that moment. Finally, since the 1988-89 academic year it became a mixed residence hall.
The current Cadarso hall combines ancient tradition with modern facilities. Its location in the heart of the South Campus makes it a privileged place as it is well connected to the rest of the city by urban bus.